Why would you advertise on this website?
Tallwomen.org has been around since 1997 (under a different web address until 2000) and has since become a trusted resource for tall women and / or ladies who require footwear in large sizes or extra long clothing.
I only accept topical banners and don't accept links to websites that are not focused on tall women and their needs.
If you have regular specials or updates (i.e. new styles) I will post articles in the News or Sale sections which will then appear in the Latest Articles column (and will therefore be seen on every page on tallwomen.org).
I will also publish these articles on the Tallwomen.org Facebook Page (and on the secret Tallwomen.org Facebook Group) as well as on Pinterest, in case you have a picture or graphic to go along with the article. I also use Google+ and Twitter - but on a less regular basis.
Pricing
Before the re-design of Tallwomen.org I had a somewhat rigid pricing structure for banners. Since the new website is so much more modular this is no longer the case.
Of course, the number of potential page views will play a part in the estimation of your specific rate. I.e. a banner on the Clothing USA or Footwear USA pages is more expensive than a banner on, say, the Clothing Australia or Footwear Germany pages. Since the default language of tallwomen.org is English, English language websites will generate more page views. Furthermore the population of the country you are based in is also a factor.
Since I have been asked here are some approximate rates (468x60 pixel banner at the top right)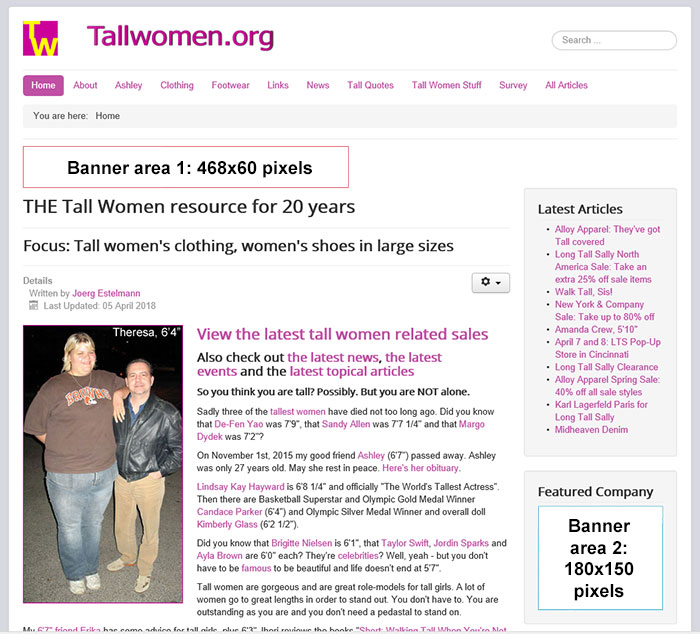 Homepage: $2000 per year
Clothing, Footwear, Clothing USA, Footwear USA: $1500 per year
Clothing UK, Footwear UK: £600 per year
Clothing Canada, Footwear Canada, Clothing Australia, Footwear Australia: $480 per year
Clothing Germany, Footwear Germany, Clothing Spain, Footwear Spain, Clothing Italy, Footwear Italy, Clothing France, Footwear France: €360 per year
Clothing New Zealand, Footwear New Zealand: $240 per year
Clothing Ireland, Footwear Ireland: €240 per year
Clothing Finland, Footwear Finland, Clothing Sweden, Footwear Sweden, Footwear Denmark, Clothing Switzerland: €120 per year
The banner will appear on the homepage of each section and all sub-pages (the pages of your competitors). You can also rent the two banners in question on ALL pages. Banner area 1 would cost $6000 per year, Banner area 2 is cheaper at $3500 per year.
If you would like to know more or discuss details or have a rate suggestion for a specific page email me at This email address is being protected from spambots. You need JavaScript enabled to view it..