Alloy Apparel
Tall women's jeans and pants with up to 37 inch inseams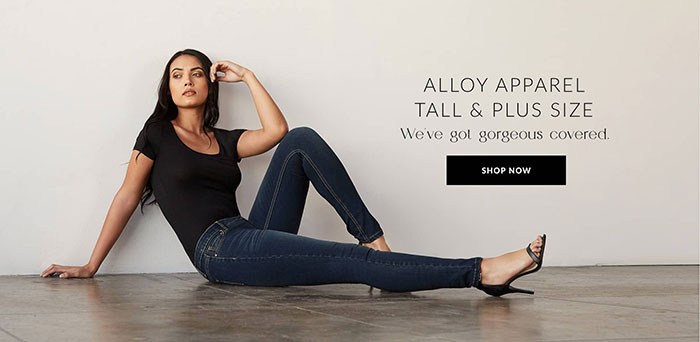 We heard you loud and clear. One size does not fit all and we don't think it should. In an effort to be more size inclusive, we'd like to introduce you gorgeous girls to Alloy+ a line of fashionable plus size styles in tall and regular sizes.
Tall Plus Size Styles
Our Tall Squad just got more gorgeous! We're expanding our collection of stylish tall fashion up to size 3x and sizes 14-24. Get the latest tall trends and flaunt your figure and long legs. Available in 35" and 37" long inseams. For beautiful babes 5'10"+
Alloy Apparel strives to empower all Tall Women across the world to love their height and feel confident in their own skin. We recognize Tall comes in all shapes and sizes. We are proud to offer the latest trends in extended sizes, long inseams, and plus size options! Additionally, our brand is known for its quality pants and stylish denim at affordable prices. Embrace your uniqueness, celebrate your long legs, stand tall and proud.
Visit the Alloy Tall Plus Size section