Holy Clothing: Onyx Tailored Velvet Romantic Long Evening Coat Dress Jacket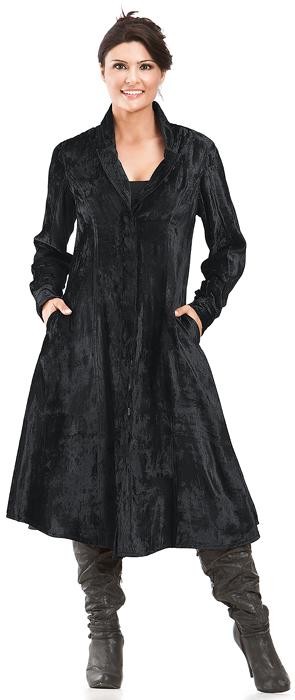 Features & Benefits:
Are you ready? Breathless romance in luscious velvet, yet sleekly tailored for sophisticated daily wear: Onyx is a wardrobe gem, perfect in any setting.
So many possibilities from one beautiful garment! Your most elegant wrap when out for the evening...or team Onyx with your favorite boots: a chic coat-dress with a poetic hint of highwayman swagger.
Onyx features discreet side seam pockets and buttons deftly concealed in a covering placket, all for a smooth and supple body line. HolyClothing's impeccable finishing and flawless seams eliminate any need for a lining, for unsurpassed ease and comfort.
Pure luxury and exquisite comfort, HolyClothing's exclusive hand-dyed 100% rayon/viscose velvet is easy-care and 'breathable'; hand-crafted from top-quality textiles, Onyx is a 'instant heirloom'.
Actual Garment Measurements: a HolyClothing difference. Taken directly from garments post-production by skilled workers; compare these measurements against your own to guarantee a perfect fit.
Ethically Handmade in India by HolyClothing.
Care:
Garment is pre-washed & easy care. Machine Wash in cold water on Delicate to retain the rich, hand-dyed color. Hang to dry. Iron inside out for best results.
Holy Clothing is a family-owned business founded on the principles of strong relationships, high-quality workmanship, and excellent value. In this cookie-cutter world, we take great pride in bringing you exclusive, handmade Dresses, Tops, & Skirts in Renaissance, Gypsy, Boho & Peasant Styles.
My 6'2" friend Linda writes: "I'm 6'2" and wear a size 20, but am losing weight. I found a clothing site I love on Facebook. They are very beautiful clothes at fabulous prices. They come in all colors and sizes but especially larger sizes. I'm in love with this site."