Zappos
Large size women's shoes in up to US size 20. Shoes larger than size 16 are mainly unisex though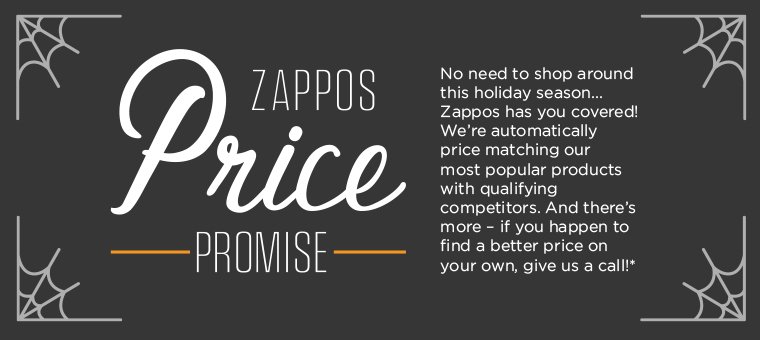 No need to shop around this holiday season. Zappos has you covered! We are automatically price matching our most popular products with qualifying online competitors. And there's more – if you happen to find a better price on your own, call our Zappos Customer Loyalty Team at 1-800-927-7671 or Live Chat . Our Customer Loyalty Team will validate the eligibility of your price match request.
How does a product qualify for price matching?*
Qualifying Online Competitor: A qualifying online competitor is offering an identical product at a lower price than on Zappos.com. Call us to find out if we will price match a particular competitor; exclusions apply.Identical Product: The competitor's product must be in-stock and identical in brand, style, color and size.Holiday Promotional Period: We are price matching orders placed between 12:01am (PT) on October 31 and 11:59pm (PT) November 20, 2016. Any price match request must be made during the Holiday Promotion Period.Exclusions: Certain exclusions apply. Check out our Zappos Price Promise Policy below for full details.
*See the Zappos Website for our full Zappos Price Promise Policy and FAQs.
About Zappos
The year was 1999, and our founder Nick Swinmurn was walking around a mall in San Francisco looking for a pair of shoes. One store had the right style, but not the right color. Another store had the right color, but not the right size. Nick spent the next hour in the mall, walking from store to store, and finally went home empty-handed and frustrated.
At home, Nick tried looking for his shoes online and was again unsuccessful. Although there were a lot of "mom and pop" stores selling shoes online, what was interesting to Nick was that there was no major online retailer that specialized in shoes. So, since it was 1999 and anything seemed possible at the time, Nick decided to quit his day job and start an online shoe retailer... and Zappos.com was born!
The original idea was to create a web site that offered the absolute best selection in shoes in terms of brands, styles, colors, sizes, and widths. Over the past 9 years, the brand and aspirations have evolved, and in addition to offering the best selection, with the goal to be the company that provides the absolute best service online -- not just in shoes, but in any category.