Sandra, 6'3"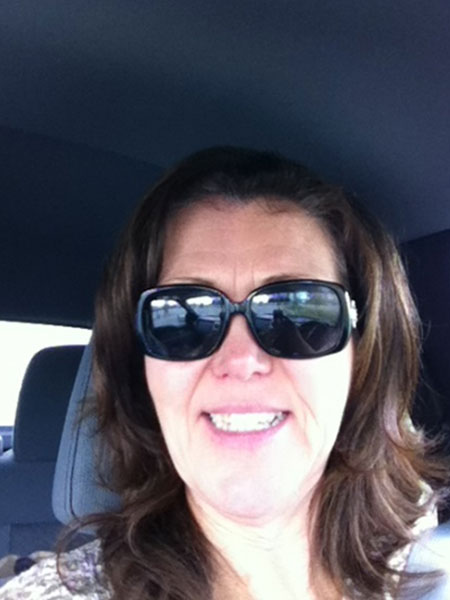 I would like to say THANK YOU for this site. I just ran acrossed it today and never knew it existed. I've read many profiles and it motivated me to share my story. Although many stories were the same as mine, I would like to put a twist on mine.
 I grew up in Riverside, California. I am 51 years young. I don't feel it or look it! I am 6'3" since high school. I was the tallest kid in my elementary school and the boys caught up with me by junior high. I often struggled with my confidence through high school and with similar comments made I often was accused of being defensive of being tall by saying, "I'm proud of it"!
One of the most difficult things to deal with was finding shoes my size. I can remember in elementary school I had to wear men's shoes and at that time was somewhat easy to find because men's shoes looked like women's shoes. I have an earliest memory of wearing shoes that were way too tight, but I didn't care and as a result many years later I have hammer toes with big corns and are very painful today.
 My mom was very supportive of me to a fault. She wanted me to be the best I could be. So, she enrolled me in John Roberts Modeling School when I was fourteen. I learned how to carry myself, dress well and how to look like a "model".
The most memorable experience in my life was being a member of a tall club in 1986. The Tall Club of Orange County was the best thing I did. I met a lot of wonderful tall people. People who were passionate about their height.  In this club, they have an annual beauty pageant that my good friend, Jane, convinced me to participate in and I told her, "If you find me a pair of high heel shoes, I will be in the pageant". Well, Jane found a store in LA called Rushton's Shoes that just happened to have a pair of black pumps with 2" heels, size 15. I went down to the store, tried them on, and was in the pageant.
The experience of being in a beauty pageant will stay with me forever. It was something I thought I would never experience, but I did. I didn't place or win, but it was the process that I went through that was important and my friends and family who supported me.
The tall club also had a second Friday dance that was specially opened to the public and every short man would attend this event. As I was standing near the foyer talking to my friends, a gentleman walked up to me and said, "You are one tall lady." I thought that was the most thoughtful and respectful way of saying how tall I am.
 Today, I try to always look good on a budget. With today's technology, I have been able to find one website, Barefoottess.com that sells shoes up to size 15. I have bought several pairs of flat, open-toed sandals. I am able to get by with wearing a size 15, but they have to be opened toe. The shoes I wore in the pageant  were very tight and I was in extreme pain. So, needless-to-say, I am still searching for a pair of size 16 women's flat heeled or 1 inch heeled pump. If anyone has any ideas, please let me know.
 I've played sports most of my life. Softball, basketball and volleyball were my favorite sports. I played one year of Basketball at Riverside City College. Over the years I've been pretty busy with city leagues as well. 
I've been living in North Pole, Alaska for the last twenty four years and no matter where I am, I still get noticed and on occasion get asked how tall I am or did I play basketball and I just tell them with pride.
 So my message to anyone who reads this post, be proud of who you are no matter what. Stand tall and take good care of yourself.
Thank you
Sandra