Suzie Plakson, 6'1"
Suzie Plakson has played a wide range of roles in film and television, including: A nice Midwestern mom on How I Met Your Mother, a nasty ex-wife on Everybody Loves Raymond, a gay gynecologist on Mad About You, a curmudgeonly sportswriter on Love and War, a tall personal assistant in Wag the Dog, a smart alec flight attendant in Redeye, a disgruntled engineer in Disclosure, and of course, a Vulcan, a half-Klingon, an Andorian and a Q on various Star Trek television series.
Also a voiceover artist, Suzie has played Monica Devertebrae on the series Dinosaurs, as well as a variety of guest voices on Dinosaurs, King of the Hill, Family Guy, and Futurama.
In addition, she has appeared in many theatrical productions, performing such roles as: the lead opposite Anthony Newley in the USA revival tour of Stop the World I Want to Get Off, Marquise Therese du Parc in La Bete on Broadway, and Maleficent in a Disney spectacular at Radio City Music Hall.
Suzie is also a singer, a sculptor, and a writer. She has written a diverse range of material, including the one-woman stage show An Evening With Eve, the gift book The Second Going, the true story Kicking It (published on Freshyarn.com), and the original album DidnWannaDoIt! (available for purchase from Amazon.com and iTunes), which spawned the video performance art piece of the title cut.
Check out Suzie's official website and listen to her music! You can buy her music on iTunes.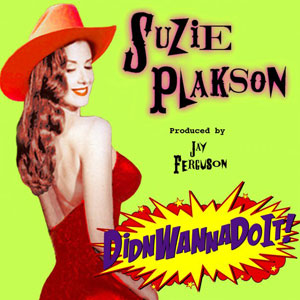 Suzie wrote: "Bravo to this site! Thanks for it - I'm honored to be on it... Best and brightest to my fellow tall gals!"
Help Suzie kickstart her current creative project "The Return of King Lillian" and make sure to visit her official Facebook Page.