In the beginning it was a rather small project. Back in the days our search-engines were Altavista and Hotbot and when I decided to research "tall women" I didn't find much. Granted, there were a few companies around that already catered to the needs of tall ladies (online) but not remotely as many as there are today. That's why I set up "Joerg's Website for Tall Women". At the time (1997) it was hosted by Tripod. A free service that allowed anyone who felt like it to upload their own website.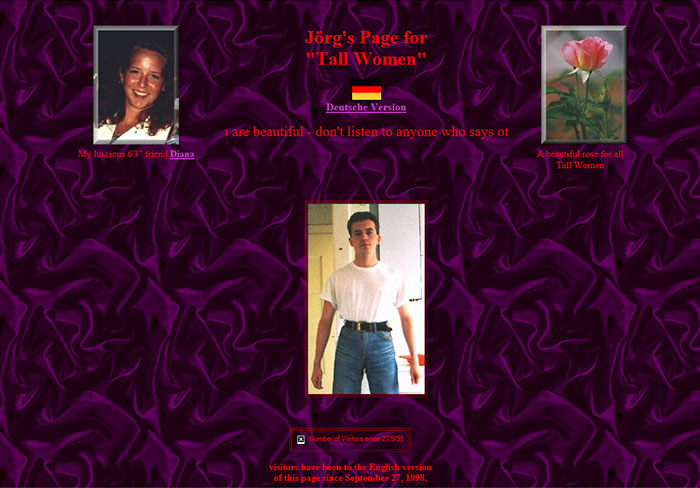 It was a good idea, for starters... but after a while the intrusive banner ads I had no control over made me want to find a more professional solution. So, in 2000, I decided to buy the tallwomen.org domain (other domain names were added later). The web hoster still is the German company Strato. Since I reside in Germany I decided to go with a German web hosting company. All in all I believe Strato was a good choice.
The general idea behind the website has always been "to make a difference". To find online resources that would make a tall woman's life easier. Over the years I have talked to hundreds, if not thousands, of tall ladies who reassured me that it was the right approach.
I must say though, becoming the "Godfather of Tall Ladies" made it a lot easier to find suitable chat-up lines on more than one occassion. But I like to think that was both acceptable and understandable at the time. Most of the ladies who got to know me personally will hopefully agree. I would hate to lose my halo...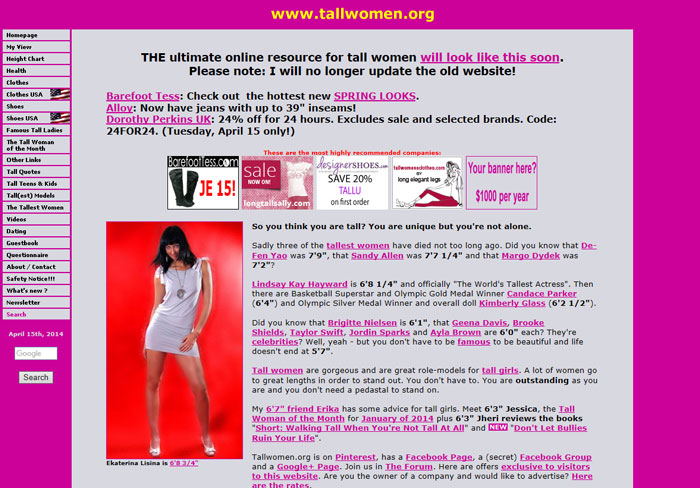 Well, everything went according to plan for a long period of time but back in 2012 I noticed that Tallwomen.org's Google ranking started to go down the drain. I'm still not 100 percent sure why this was the case but I have a pretty good idea. From what I could gather Google considered websites with a lot of links as "spammy". I'm not sure I would agree but who I am to argue with THE search engine? As a matter of fact Bing gave Tallwomen.org much better listings.
At the time (2012) I started to gain access to a 23 inch 16:9 computer monitor at work. I can't tell you how crappy the website looked at that kind of resolution. I must admit: I didn't think ahead too much when I chose the (original) layout and therefore couldn't change it without major modifications. Hence the idea of finally using a Content Management System (CMS) became more pressing.
So it was about time for a complete makeover. I've been working hard for the past few weeks and I am now hopeful that I can relaunch the site by May 1st of 2014. Some of the old content is still missing but I don't think we need all of it. I will keep the old website as an archive. Check it out: https://www.tallwomen.org/oldsite/
Nowadays I'm engaged to a beautiful 6'1" lady whose name is Ari (short for Ariane). She is the best thing that has ever happened to me and because of that I love her dearly. I'm not sure I would have been able to talk to her if it hadn't been for the website... so there's another reason to celebrate the origins of what we have got here now.
Finally I would like to take this opportunity to thank you all for your patronage. You have made this website what it is by giving me words of encouragement. By criticising me. By telling me what you would like to see. I can't hide the fact that I'm neither a woman nor tall but I would like to think I / we have made a difference. The internet would be a much duller place without Tallwomen.org in it. I hope you will agree.