Malgorzata "Margo" Dydek-Twigg
April 28th 1974 - May 27th 2011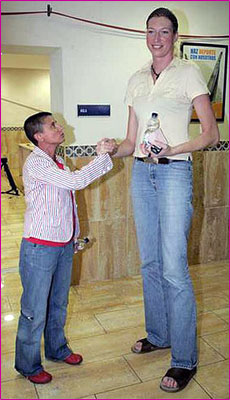 Margo was 7'2" (218cm). We will never forget you, Margo!
It is with deep sadness that I have to report the death of Malgorzata "Margo" Dydek-Twigg. Margo died in Brisbane on Friday, May 27th 2011 after suffering a heart attack a week ago and being placed in a medically induced coma. With Margo died her three month old baby. This fact makes an already sad story even more heartbreaking.
The Brisbane-based Wizards posted a statement on their website Friday. "Always in our hearts - Margo," it said. "With great sadness we acknowledge the passing of ... Margo Dydek. Margo suffered a heart attack just over a week ago and passed away Friday 27th May, peacefully and surrounded by her family. You were a much-loved member of our community and we will miss you greatly. Our hearts go out to your family, David and your beautiful boys xx."
She is survived by her husband, David, and two sons, David, 3, and Alex, seven months.
Read more: http://www.foxnews.com/sports/2011/05/27/wnba-player-dydek-dies-heart-attack/
Since I have never spoken to Margo herself and don't have anything to put here at the moment I simply leave you with a beautifully written article that was published today: http://sports.espn.go.com/wnba/columns/story?columnist=voepel_mechelle&id=6597834
Addition: I would love this to be a Memorial for Margo so if you knew her and have any positive or interesting stories to share This email address is being protected from spambots. You need JavaScript enabled to view it..