Sandy Allen
June 18th 1955 - August 13th 2008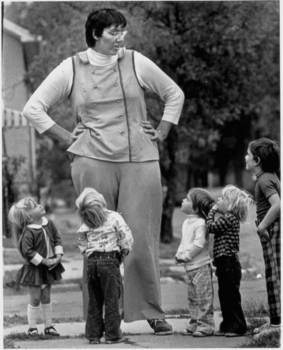 who stood at 7'7 1/4" (232cm) at her tallest. We will never forget you, Sandy!
It was with deep sadness that I had to report the death of Sandy Allen on August 13th 2008.
My 6'7" friend Erika and I were supposed to meet up with Sandy back in 2007 but it didn't materialise because the people from the nursing home didn't call us back in time. That was a big shame.
Even though I never met Sandy in person I somehow felt I knew her. From what I can gather she was a friend you could always count on. Inspite of her own problems (and they were immense) she was always ready and willing to give to others. I can't think of a better way to commemorate Sandy than to fill this webpage with life and we need to make sure Sandy gets her headstone!
---
Sandy's grave has its headstone
Sandy's friend Rita Rose just sent me an email... "The World's Tallest Woman finally has a headstone on her grave in Shelbyville's Forest Hill Cemetery." Thanks for letting me know, Rita. This is wonderful news!
---
The fundraiser has been successful. There will be a headstone for Sandy Allen's grave very soon
After this website and the Niagara Falls Review asked people for help the fundraiser for Sandy's gravestone finally gained momentum.
We've done it!
I have just learned that "...readers of the Review donated $2950 to the memorial fund. Allen's family and friends are overwhelmed by the response, according to Greg Parks, administrator of the fund. The headstone will be set in the new year on her resting place, overlooking a school where Allen would frequently speak to young kids about the challenges she overcame."
Thank you very much for your help!
---
Joerg writes:
I am going to use this website to celebrate Sandy's life and honour her legacy. Even though I never met Sandy in person (see above) she was one of the first "super tall" women I noticed. There was a picture of Sandy and some little kids in a German newspaper about 25 years ago and I was wondering what life as a extremely tall person might be like. As you can imagine I never found out. I managed to find out what really tall women are like though - and because I did I can only say I am blessed.
Everything I heard about Sandy was positive. She didn't get so tall because she chose to be tall but because she had a tumour in her brain that caused her to grow to 7'7 1/4". I've stated it elsewhere but I'd love to reiterate: I wish Sandy hadn't had that tumour and had instead grown to a sustainable height. Sadly her growth couldn't be stopped in time but that was what made Sandy become who she was.
She lead a very difficult life which had more lows (healthwise) than highs but she always managed to make the best of it and she was always ready to give.
Thank you for being such an inspirational person, Sandy. We will never forget you!
Sandy's friend Rita Rose has kindly given me the permission to use the Eulogy she gave. Thank you very much, Rita!
---
Wednesday, August 13th 2008
What happened: Sandy's friend Rita Rose sent me the following email earlier today (August 13th 2008): "It is with a heavy heart that I let you know that my friend of 30 years, Sandy Allen, passed away early today in a nursing home in Shelbyville, IN. She was 53 and had been ill for several months."
Update:
Funeral services will be at Town and Country Christian Church, 2133 S. Tucker Road, Shelbyville. Calling is from 4 to 8 p.m. Sunday, Aug. 17, and 9 to 10 a.m. Monday, Aug. 18, with services at 10 a.m. Murphy-Parks Funeral Services in Shelbyville is handling arrangements.
---
Friday, August 15th 2008
Update:
Monday's funeral procession for the late Sandy Allen, the world's tallest woman at the time of her death Wednesday, will pause on the west side of Public Square to transfer the casket to a horse-drawn carriage.
Allen had requested the carriage processional in the years prior to her death, according to Greg Parks of Murphy-Parks Funeral Service.
Following the 10 a.m. funeral services at the Town & Country Church, 2133 S. Tucker Road, burial will be at Forest Hill Cemetery.
The procession route will leave the church and follow State Road 44 east and continue northeast on Miller Avenue to Miller Street, continuing north to Washington Street, then east to Public Square. Traffic will be stopped on all sides of Public Square. Allen's casket will be transferred to the carriage, which will proceed east on Washington Street, north on Vine Street and east on Morris Avenue to Forest Hill Cemetery.
Allen's family will follow Allen in a second horse-drawn carriage.
---
Monday, August 18th 2008
Sandy Allen, the 7-foot-7 woman recognized as the world's tallest female, was remembered by mourners at her funeral today for her kindness and generosity.
More than 200 people attended the service for Allen at Town & Country Church. More people lined the streets of her central Indiana hometown as the funeral procession went to the downtown circle. Her Indiana-made casket then was placed on a horse-drawn carriage to travel about a mile to Forest Hill Cemetery for burial.
---
Memorial contributions can be made to the Sandy Allen Scholarship Fund at the Blue River Community Foundation, 54 W. Broadway, Suite 1, Shelbyville, IN 46176.