Alloy now offers more "Tall" items than ever before
For years Alloy Apparel (formerly Alloy) have been one of the most highly recommended companies as far as pants / jeans with extra long inseams are concerned. The fact that their pants / jeans have inseams that are as long as 39 inches and are still in the budget range makes them an excellent choice for the tall woman who doesn't want to pay through the nose for her pants.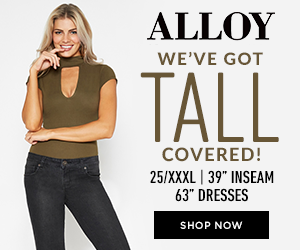 Now there is even better news
I've been reliably informed (and I checked and it's true) that Alloy Apparel's shoe selection now covers the US size 13 range. And... very important - the shoes are also in the budget range. Right now they are offering 23 shoe-styles (flats and heels) in US size 13. The most expensive ones are $ 39.90. A good deal, if you ask me.
They have also enhanced their "Tall" selection. Now you can choose from
Tall Dresses
Tall Jeans
Tall Pants
Tall Jumpsuits/Overalls
Tall Tops
Tall Skirts
About Alloy Apparel
Alloy Apparel is a direct-to-consumer women's lifestyle brand best known for a breadth of sizes and fits. Addressing the needs of the underdeveloped plus and tall markets, we offer sizes up to 25/XXXL, inseams up to 39", and dress lengths up to 63" in a vast array of contemporary styles. Additionally, our brand stakes a long-standing claim in the affordable jean market with a Denim Shop that features six fits and a myriad of washes and styles within each subcategory.