A 13-YEAR-OLD girl died from a suspected drug overdose after being bullied because she was 6ft tall, her parents said yesterday (this is from November of 2001)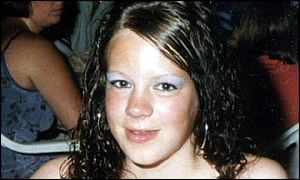 Police are investigating allegations that Morgan Musson took her own life after being subjected to threats by a gang of seven girls who attended her former school, Ellis Guilford comprehensive in Nottingham.
Her body was discovered when her mother, Debra Savage, 35, tried to rouse her for school at 6am. Morgan had swallowed 40 painkillers.
Mrs Savage said she blamed bullies for "my beautiful daughter's death".
Mrs Savage said: "She was called names and threatened with violence because of her size. Even though she was 6ft tall, she was sensitive and quiet. The bullies knew this and preyed on her."
The family claim that Ellis Guilford refused to suspend the alleged bullies.
But the school did offer to chaperone Morgan, gave her one-to-one tuition and allowed her to leave lessons early to avoid her tormentors.
Mrs Savage said: "We asked and asked teachers to take effective action to deal with the bullying.
"Why in God's name did they not expel those girls? If they had, I might still have my daughter."
Measures for dealing with bullies at Ellis Guilford School have been praised by education inspectors.
Peter Plummer, the headteacher, said: "We have a comprehensive anti-bullying policy which has been commended by Ofsted inspectors.
Any allegations or concerns regarding bullying were followed up according to the procedures set out in this policy."
In June Morgan was taken out of the school and transferred to another where she was said to be getting on well. But the bullying continued because the gang lived near her house.
The day before Morgan's death, on Wednesday last week, she had an argument with her best friend, who apparently did not want to be her "pal" anymore.
Her family claimed that the bullying had left her vulnerable and the loss of her best friend proved the last straw.
Dr Nigel Chapman, the coroner for Nottingham, said: "Police are investigating claims of bullying in relation to Morgan's death."